Indiana isn't the only place a 500-mile open-wheel oval track race takes place. We did one of our own Saturday in advance of the "Official" Indy 500 on Sunday.
Of course, our race was scale miles and we didn't quite make it to 500. Instead, we stopped this race with around 450 laps (scale miles) completed on the Stewart Raceway III oval course (almost a scale mile) and called it a race.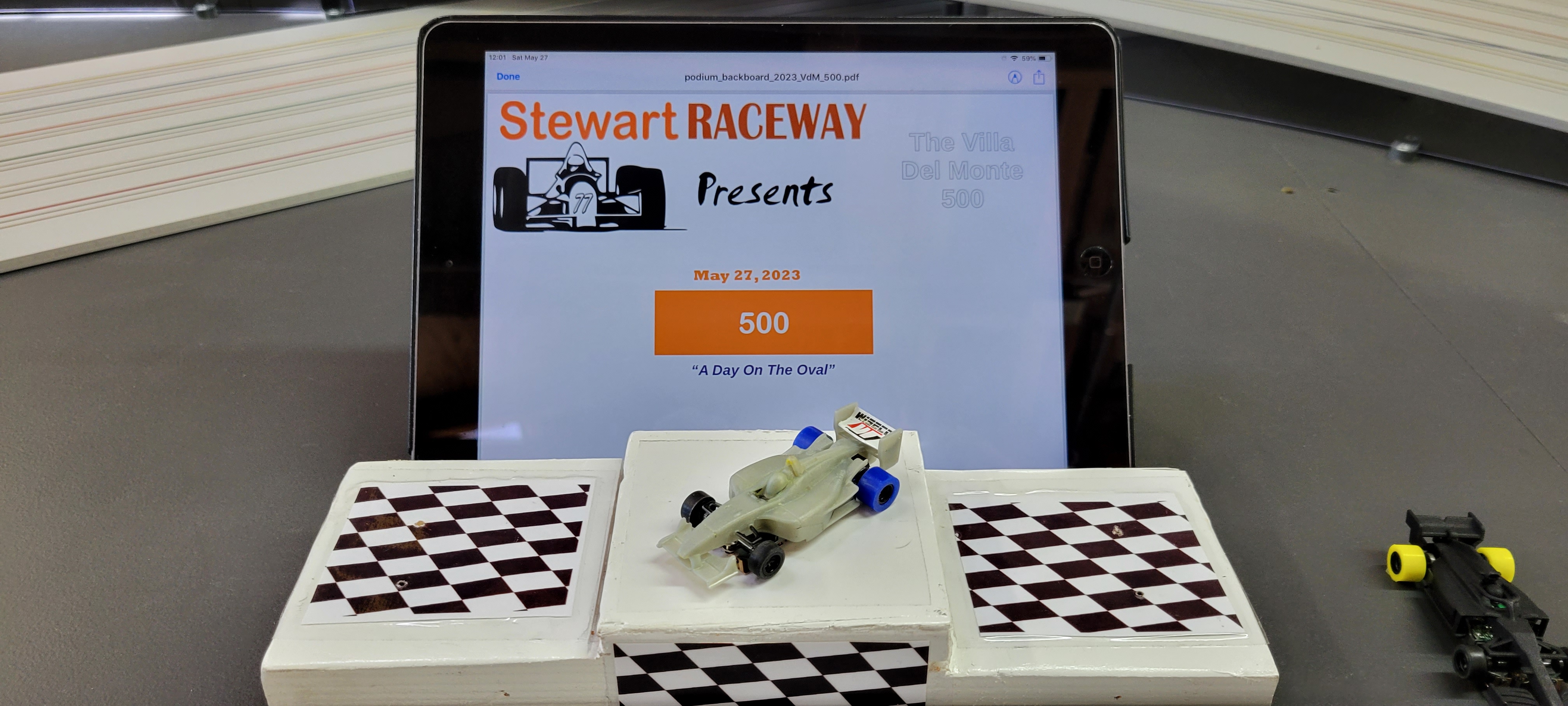 We did, however, complete a qualifying round prior to the actual race. Kevin Webster and Brad Sandahl would be the fastest two drivers in qualifying with Kevin doing a masterful job of bagging the Pole Position for the start of the 500-lap race.
Track: SR3 Oval Super Speedway

Date: May-27-2023 11:36

Class: Mega-G+ 1.7 Support Class Qualifying

 

Name

Lap Time

Speed (Mph)

Place

Kevin Webster

2.033

788

1

Brad Sandahl

2.057

779

2

Jerry Pearson

2.221

721

3

Steve Stewart

2.264

708

4

Eric Lane

2.408

665

5

George Peters

2.965

540

6

Jordan Walker

3.425

468

7
The slot car version of our 500-lap race was on four lanes with 56-lap heats (segments), 45-lap fuel allocations, and way too many times through the rotation, which was never going to work out.
Regardless, the race went green just before noon and George Peters set the pace by leading the race by just one lap after 56 laps. Brad Sandahl, however, would set the fastest lap in the segment at 2.080.
Segment 2 was a dogfight between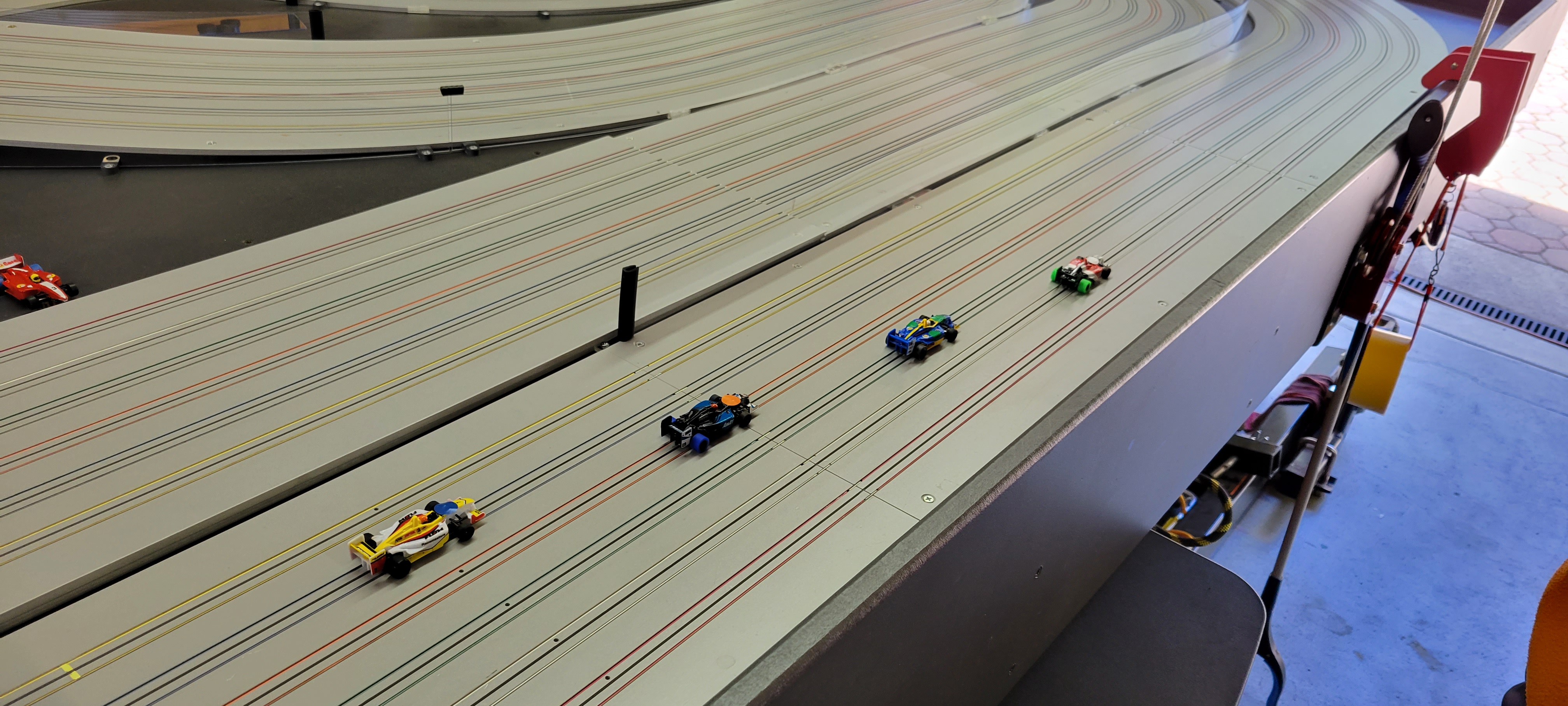 Eric Lane, George Peters, and Brad Sandahl.  Eric came out on top by just one lap between each of the top three in the segment. After 112 laps, it was George Peters, Brad Sandahl, and Eric Lane at the top of the Leader Board.
At the end of Segment 3, Brad Sandahl would take the lead in the race with Eric Lane moving into 2nd place. Lots of action in the pits and plenty of drama.
Brad Sandahl would remain in the lead through segment 6 (221 laps) but fast qualifier, Kevin Webster, was quietly moving through the field and would finish the segment in 2nd place overall.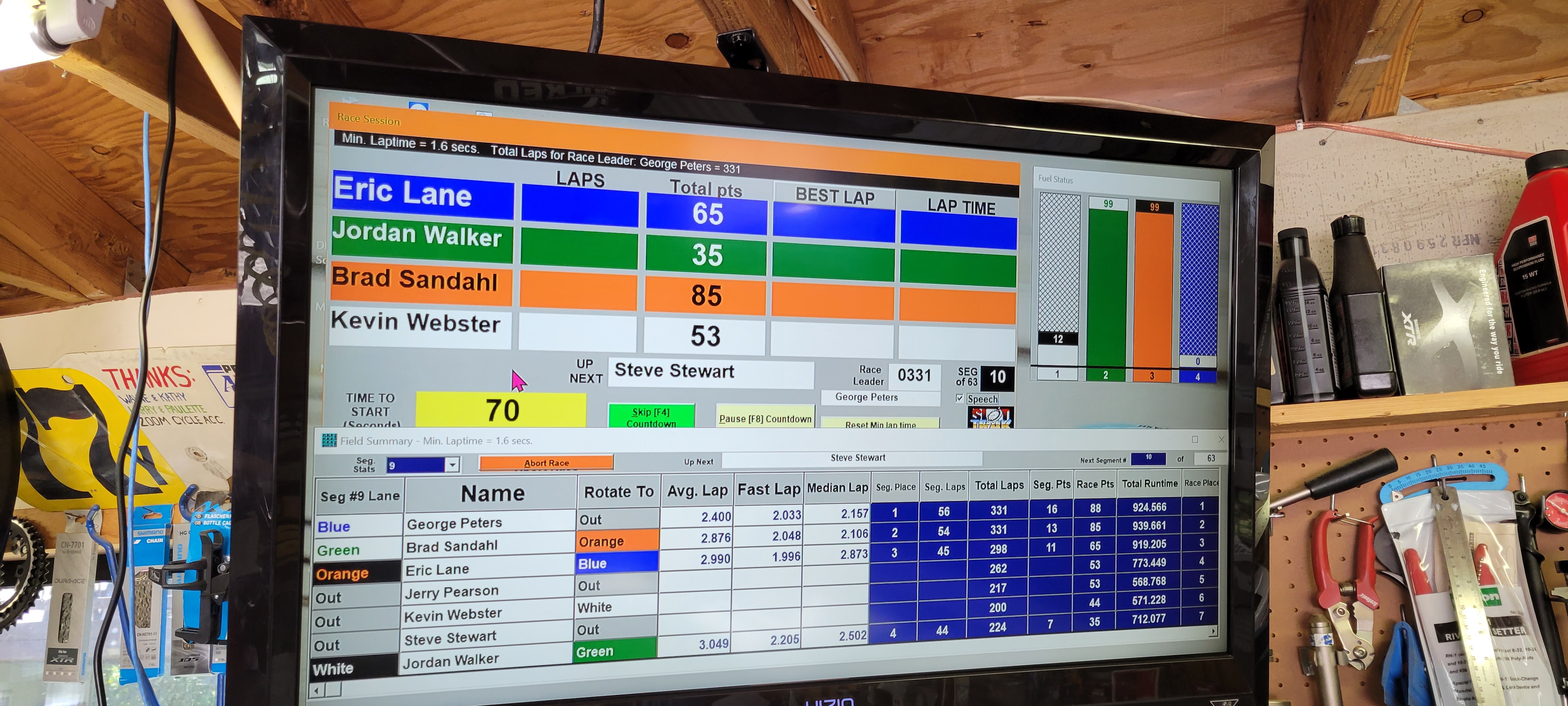 Segments 6 through 12 were a Brad Sandahl/George Peters show with Brad finishing his rotations prematurely in the lead at 424 laps. George Peters would win his share of segments while Eric Lane and Jerry Pearson held solid positions in 3rd and 4th. Meanwhile, speedster, Kevin Webster was laying down 1.9s laps on his way to 2nd place in Segment 12.
Kevin Webster would take over the lead after Segment 13 with just one more segment to go but out of the rotation with a lap total of 440. George Peters stayed close to Kevin in Segment 3 and completed it on the same lap, which would allow George to seal the deal in the final segment.
The final Segment of the grueling race would have George going into it with 387 laps, Brad Sandahl was out but and sitting in second at 424 laps, and Kevin leading with 440 laps but finished with his final rotation. George only needed 54 laps to win the overall race but that's no easy feat when fuel racing is involved, anything can happen. Hard-charging Jerry Pearson and Eric Lane could not unseat any of the top three but that didn't stop them from trying. Both finished the final segment on the same lap with 54 laps total and speedy lap times.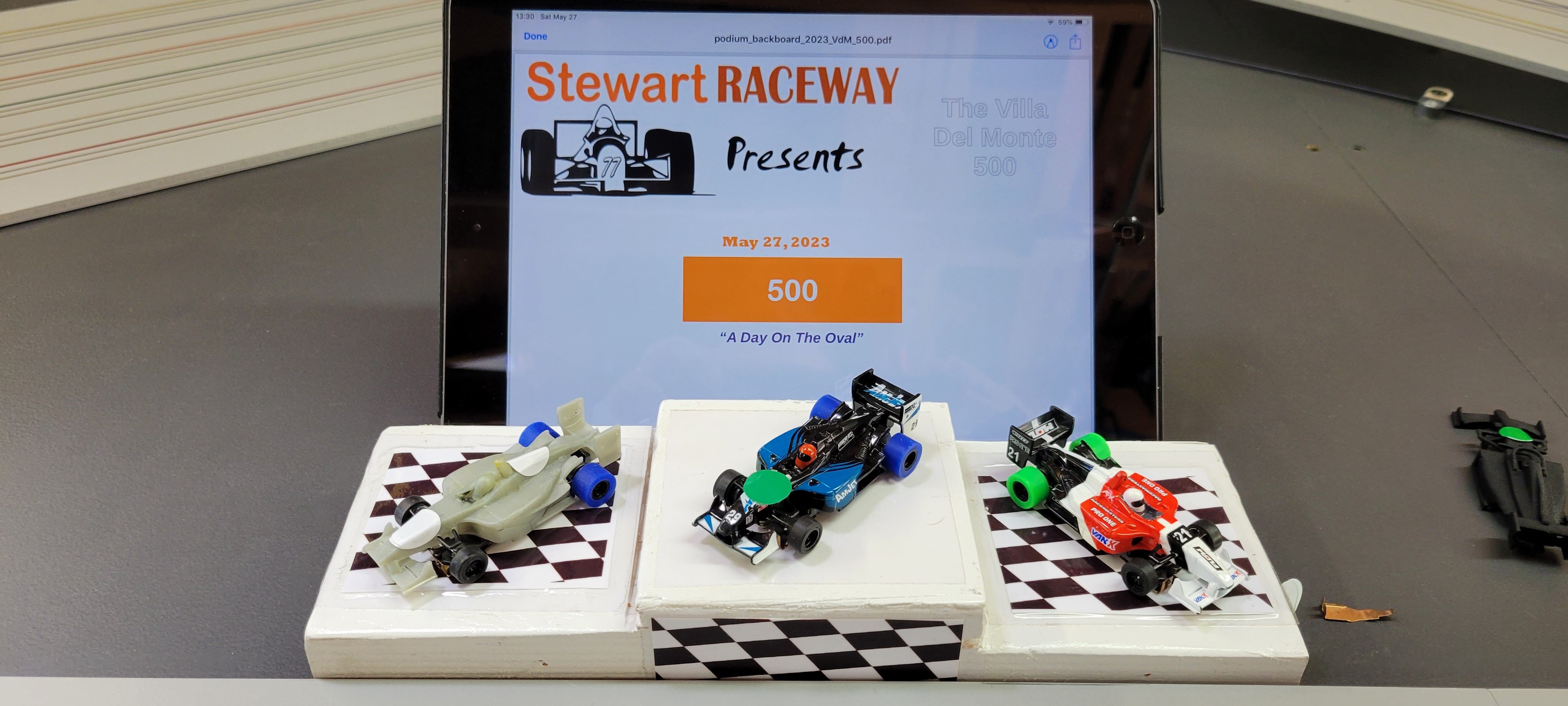 In the end, it was George Peters taking the checkers over fast qualifier, Kevin Webster, by just three laps. Detailed Results
Name

Total
Laps
Race
Place
Total
Run Time

George Peters

443

1

1217.93

Kevin Webster

440

2

1162.477

Brad Sandahl

424

3

1249.89

Jerry Pearson

420

4

1219.193

Steve Stewart

408

5

1183.247

Eric Lane

398

6

1222.274

Jordan Walker

359

7

1175.896
Because the Race Director muffed the race setup, we decided to call it a day when Brad had to exit. So we never did reach 500 laps but it was a great race anyway.
Hats off to Georgie for driving a very solid and fast race against some serious competition from both Experts and Sportsman drivers. Sportsman driver, Kevin Webster finished in 2nd place while Sportsman driver, Jerry Pearson finished in 4th place. Very competitive racing at 18v with pretty much stock MegaG+ 1.7 chassis' and F1/Indy bodies.
Fast qualifier and 2nd place finisher, Kevin Webster would also clock the fastest lap during the race at 1.907 seconds.
After the main event, we tried an IROC race with a set of Viper V-Specs cars that Eric Lane graciously donated to the track. Sadly, the F1/Indy hardbodies didn't handle wall time too well with this bunch of drivers. Two of us put two different cars into the wall early on and the bodies shattered like snowflakes against the wall. We aborted and tried a set of AW Super III NASCAR rigs. That didn't work out so well either. We aborted the race after four segments due to axles popping out on wall contact. Jordan Walker was on top of the leaderboard when that one ended.
Okay, next time will get the race setup right and complete 500 or 600 laps. Until then, shut up and drive!