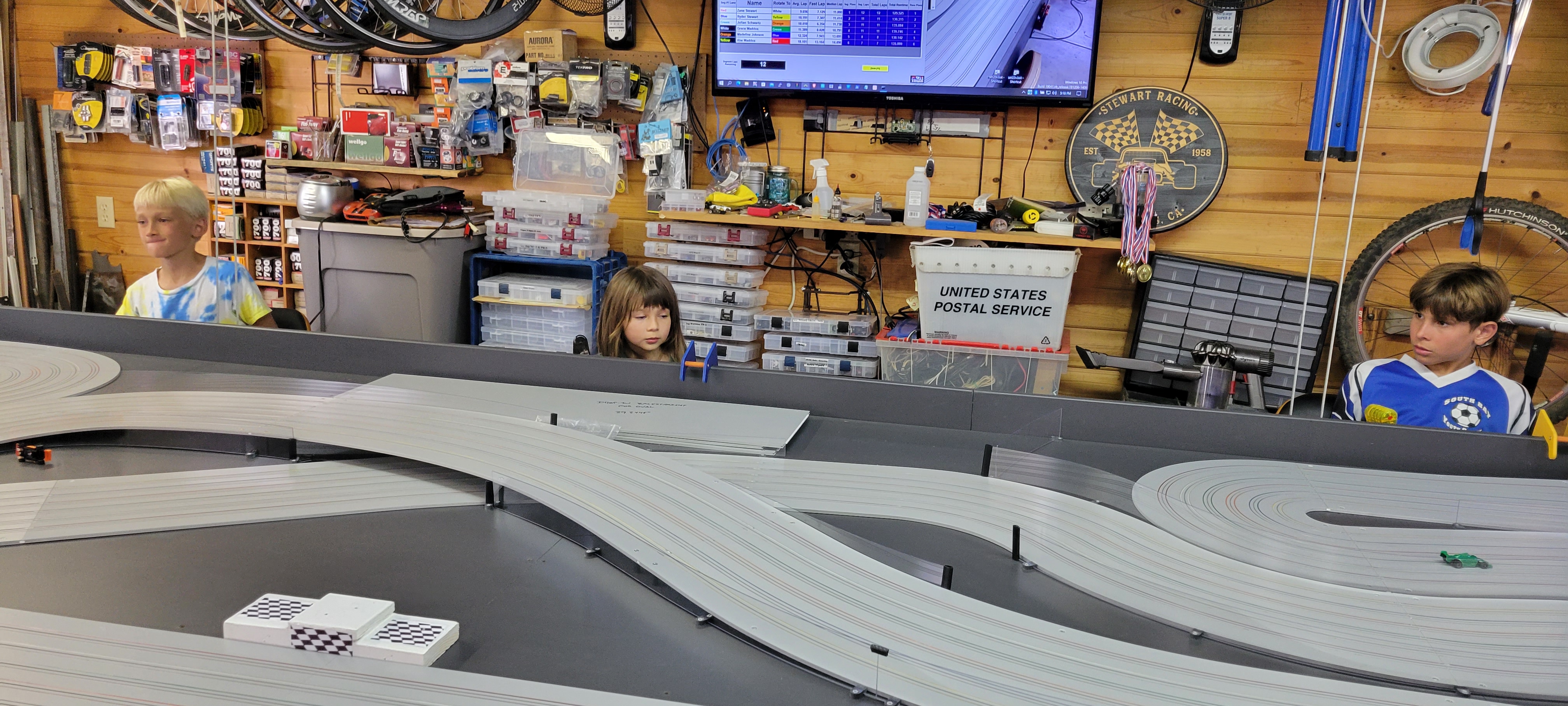 So much for the pool party component. The kids focused mostly on driving little cars. Probably because the temps were actually very nice and the pool just didn't attract as much attention.
We didn't have any trouble filling the lanes for this event. We actually had eight drivers and eight marshals at the start of the event and six drivers and three marshals for the start of the race. As you can imagine, we needed more than three marshals for this event. However, many of the parents were busy interacting with neighbors they hadn't met yet or hadn't seen for quite a while, and missed much of the action-packed, mayhem-filled race.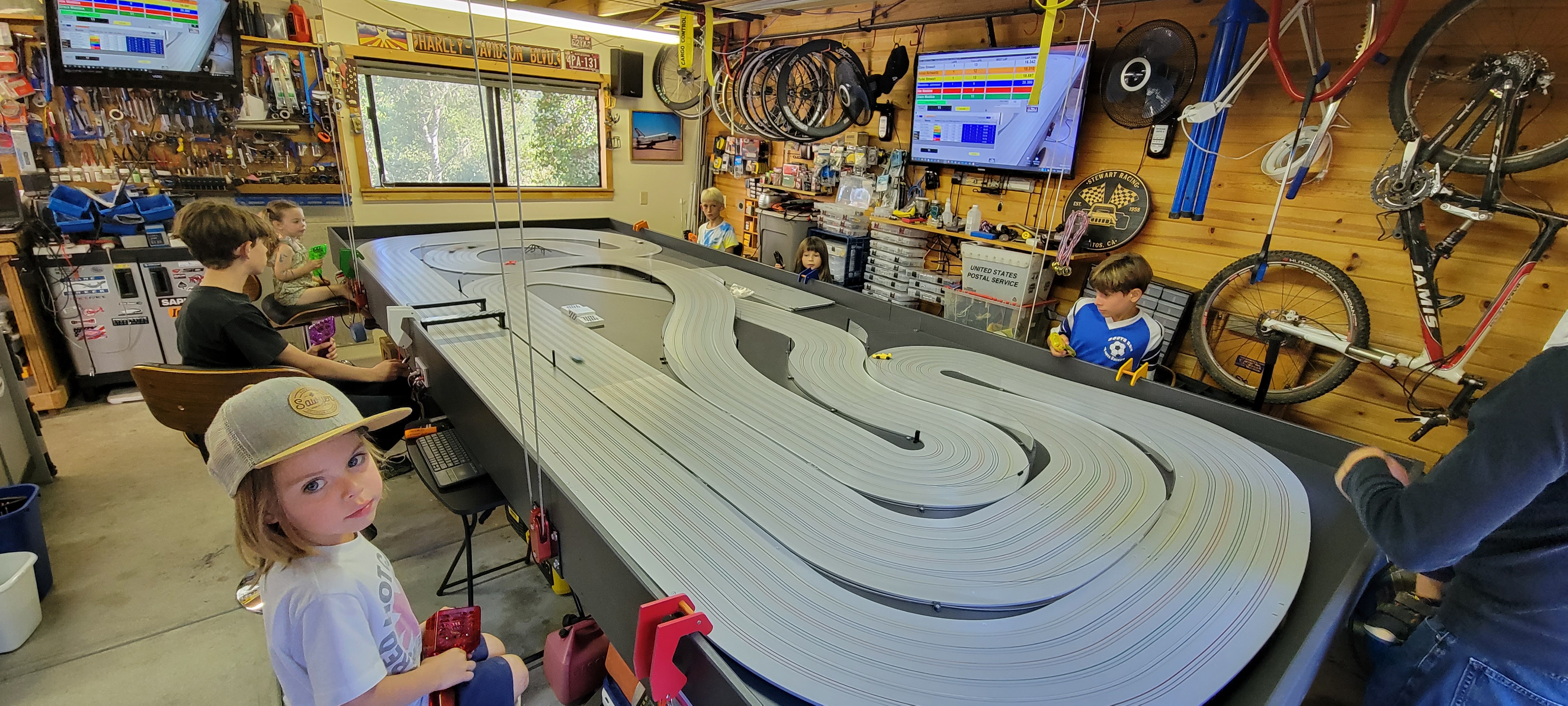 Regardless, we started the kid's race with a full slate of six racers, ages 3.5 to 12 years.  Surprisingly, the younger kids were amazingly focused and did remarkably well considering they'd never even heard of a slot car until their sudden immersion on Saturday.
How'd they do? Well, they didn't complete the entire race (only 4 out of 6 segments) but it was amazingly close with the top driver completing a total of 48 laps and the bottom driver clicking off 34 laps. That's actually pretty close considering the age gaps and all the distractions they dealt with.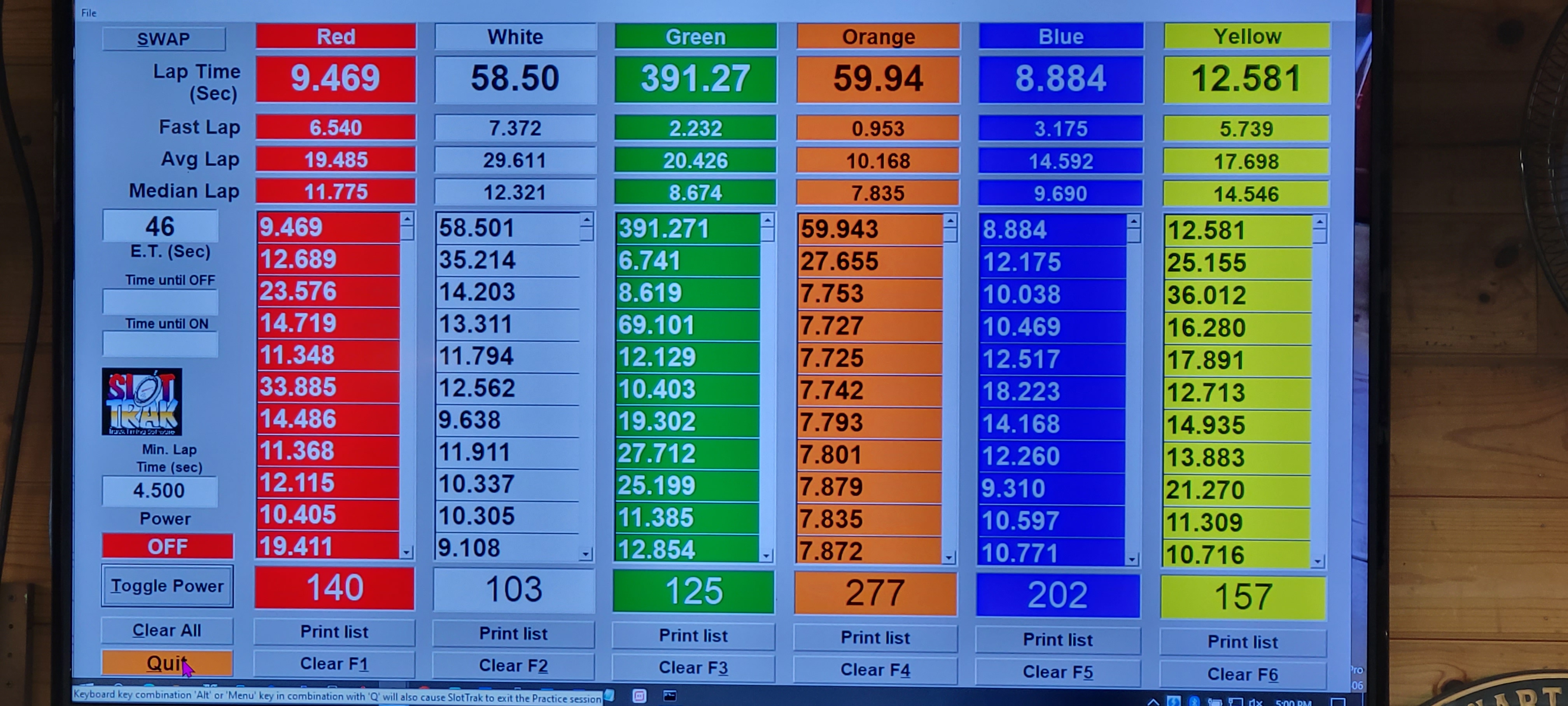 Unfortunately, the Race Director failed to disable the track call buttons, and the kids who knew about them thoroughly abused them. This made for a much longer race but actually worked out okay since we didn't quite have enough marshals to cover all the crash action.
Thank goodness SR3 supports independent lane voltages. This allowed us to throttle down the younger kid's cars, which helped them tremendously. But it was a lot of work manually changing voltages as the drivers rotated from lane to lane.
I must say I was impressed with the focus and driving skills that these kids displayed. Most of them never lost focus and completed an amazing amount of laps. And they were way competitive, always wanting to know what place they were in (and when the race ended :).
I must also say that marshaling a kid's race is hard work! Six active lanes and mostly only two marshals are definitely ingredients for a fatiguing day. I'll need to adjust the rules and make all drivers have to commit at least one parent to be a turn marshal.
All that said, I'm all in on doing it again. These wonderful kids are the future of slot car racing and our world in general. I'm happy to provide them with a fun family environment and to spend time with their great parents and my neighbors.  Way fun!
Thank you all for helping make this event happen. I hope everybody enjoyed the get-together and we do it again soon!
Okay, shut up and drive!